Engineering Design & Detailing
Technosoft offers multi-disciplinary Engineering Design and Detailing Services using intelligent and state of art technology applications.
Our team includes expert engineers having rich experience in industries like Automotive, Machinery & Robotics, Heavy Engineering, Industrial equipment & products, Aerospace, Rail & Marine, and Oil & Gas EPCM.
We also provide best-in-class detailed engineering services through integrated engineering workflows and applications for mechanical and electrical elements, piping, and instrumentation projects. With more than 450+ engineers working, we engage with our customers as per the requirement.
Some of our expertise in Engineering Design and detailing includes:
General Arrangements & Layout preparation,
Intelligent part/sub-assembly/assembly/drawing creation
Geometric Dimensioning & Tolerance, Tolerance Stack-up
Hydraulic, Pneumatic Circuits & Piping Drawings
Machining, Fabrication, Weldment drawings for Manufacturing
BOM/Part list
Spare/Operation/Maintenance Manuals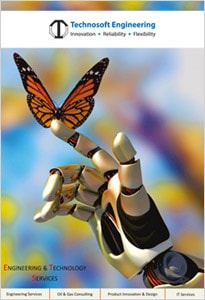 Download Brochure
Other Mechanical Services