News & Updates
CEO's annual letter for 2017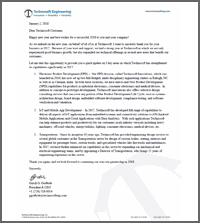 Read More
Girish G. Godbole, President and Chief Executive Officer of Technosoft Engineering, Inc. sent the following annual letter to our clients. In the letter he presented the three key areas in which Technosoft has strengthened its capabilities significantly in 2017:
Technosoft Innovations our electronic product development division was launched successfully in 2016 and has set up two full-fledged, multi-disciplinary engineering centers in Raleigh, NC and Chennai, India.
Technosoft has developed a complete array of capabilities to deliver multiple aspects of IoT applications ranging from embedded systems and connectivity solutions to iOS/Android mobile apps, cloud applications, and data analytics.
We have appointed a Director of Transportation who brings with him 25 years of rich industry experience thus enhancing our capabilities in the transportation sector.
---
President & CEO Girish Godbole speaks on Technosoft's Multidisciplinary Product Engineering Services under one roof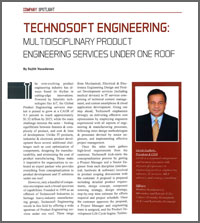 Read More
Technosoft Engineering President & CEO, Girish Godbole speaks with SiliconIndia magazine regarding Technosoft's end-to-end product engineering services. During the interview, Mr. Godbole emphasized on the Technosoft's growth strategy, experienced engineering and leadership team, and use of leading-edge technology to deliver innovative and reliable engineering design and development services. Mr. Godbole's full interview with the SiliconIndia magazine can be accessed below.
---
American Medical Device Summit 2016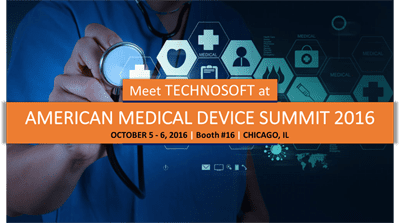 Technosoft Innovations is participating in the American Medical Device Summit 2016, along with our partner Porticos.
Booth: #16
Date: OCTOBER 5 – 6, 2016
Location: THE WESTIN LOMBARD YORKTOWN CENTER (70 Yorktown Center, Lombard, IL)
Technosoft along with Porticos, showcasing core service capabilities in the areas of end-to-end product development solutions for medical devices and presenting joint project development projects in the niche areas of medical devices, hand-held consumer electronics, telecommunication products and energy systems.
---
Meet our new Executive Vice President of Electronics Product Development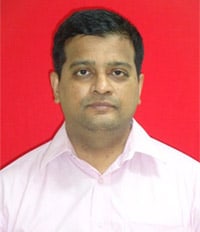 Mr. S Krishnakumar
Executive Vice President
Date: June 23rd, 2016
Technosoft welcomes Mr. S Krishnakumar as our new Executive Vice President for Electronics Product Development Division.
With over 23 years of experience in Global OEM's, Engineering Consulting Services, Contract Design and Manufacturing Environment, Krishna brings a robust mix of leadership, technology expertise, operational experience, technical breadth, and passion for customer service.
His key assignments have been in Global Product Development & Manufacturing Industry. Krishna comes with vast experience in leading New Product Introductions, setting up teams from scratch, and growing business by successfully working with large diversified teams.
His role at Technosoft is to build & drive excellent service delivery, solution development and managing the growth strategy for the Electronics Product Development Business.
Prior to joining Technosoft, Krishna was associated with large MNC's such as Larsen & Toubro, GE Healthcare, Shimadzu Asia Pacific, Infotech Enterprises & Sanmina-SCI.
Krishna holds a Bachelor's in Electronics & Telecommunications Engineering from Anna University, Masters in Operations Management and MIS & PGD in Computer Application (Unix, C & Oracle).
---
Formation of Technosoft Innovations and Acquisition of Anuva Innovations
Date: June 1st, 2016
Technosoft Engineering is pleased to announce the formation of a wholly-owned subsidiary "Technosoft Innovations, Inc." based in Raleigh, North Carolina, USA, which will focus on end-to-end product development for medical devices, consumer electronic products and networking/telecom products. Technosoft Innovations combines existing resources and experience of Technosoft Engineering in Electronics Product Development space with the recently acquired assets of Anuva Innvoations, Inc., which was located in Raleigh, North Carolina, USA.
Technosoft Innovations offers services that span the entire spectrum of product development cycle from concept to design to prototyping, testing and small volume production for clinical and consumer testing phases.
Technosoft Innovations is "ISO 13485" certified for safety and quality processes related to medical device design and manufacturing.
Technosoft Innovations, with its development teams and testing/proto-typing facilities located in Raleigh, NC and in Mumbai, India, will serve customers worldwide with its end-to-end product design services for electronics product development.
Please click here to request additional information and/or schedule a meeting with Technosoft Innovations.